la casa en mango street
| | |
| --- | --- |
| We started this project by reading chapters of the book Mi Casa en Mango Street. Then we wrote two chapters in both Spanish and English as if we were the person from the book. We wrote about our past homes and the neighbors that we had at each house. I liked this project because it was fun getting to tie my learnings into my past experiences. This made the project really relatable and fun. | |
Che
For this project we learned about the revolutionary Che. For my final product I created a poster with with the iconic image of Che with flags off many different countries behind him. The flags are from countries that have had revolutions due to beliefs and political ideas that Che created. I titled this poster Che en el siglo 21, Che in the 21st century. Along with this I wrote three commands that Che would say to someone, mostly relating to communism. I really liked this project because I found Che to be a very interesting man due to the journey that he went through just to realize he needed to spur change. Along with that I really liked being able to pick between a recipe and a poster, that way I could pick the one that interested me the most. If I can do this project over I don't think I would change anything, Im proud of my final product and I feel like I learned a lot.
Sea un comunista.
Be a communist.
Viva con communismo.
Live with communism.
Sea un parte en la revolución.
Be a part of the revolution.
Las ramblas
| | |
| --- | --- |
| For this project we got to choose a famous Spanish speaking celebrity and then create a presentation about that persons life. I chose to focus on Julio Iglesias because I knew nothing about him but he seemed like a very fun guy. Since we were writing it from the present looking back onto a persons like we needed the past tense. So during this project we learned how to conjugate verbs into the past tense in both preterite and imperfect. I really enjoyed learning this skill because I felt like it really tied everything else together. It made it much easier to form sentences with the ability to refer to something that had already happened. Overall I believe that this project was very fun and helped me understand the past tense. | |
Porque statement
Estudio español porque me gusta hablo espinal, para esquire en chile, y por mi educación.


I learn spanish because I have to but I think that it is a very important skill. I think that when someone knows too language you get to unlock parts of your brains that you would otherwise not be able top get to. Another reason I want to learn spanish is because there are lots of spanish speaking countries that I want to travel too and ski. Also I would like to be able to go and hang out on the beach in Mexico and talk to the locals.


mi cuento
Estaban a la parque de Needham después
entrenamiento de futbol. Yo jugué tetherball con mi amigo Colton. Nos divertimos y yo me zambullí en el concreto y corte mi mentón. Yo corrí sobre el campo de fútbol a mi madre. Yo mostré a me madre y ella gritó. Ella cogi un pañal de Steve Stahl y lo poni en mi menton. Steve Stahl conducí mi y mi madre al hospital porque mi herida fue muy malo. A la hospital obtenti siete puntos. Despues del hospital yo fui a Baskin Robbins y yo ordené algunos sorbetes. Cuando fui a mi casa yo dormí en mi cama.
For this project we got to write a story about an event that had happened to us. We had just learned past tenses so it was a good way for us to practice our new skill.

I think that it is really important that I know the past tense in Spanish so I can describe stories to my friends if I ever go and travel to a Spanish speaking country.
---
un dia en la vida
For this project we had to write a story about the day in the life of a certain person, or animal. For my story I wrote about a penguin that while on its way to work fell through the ice grabbed a whale and rode it to Hawaii for a vacation. For this project we had to include reflexive verbs, a new concept that we learned during this project.

I liked this project because I enjoyed writing about what ever I wanted. I think that it really helped me to stay on task by me writing about something that was interesting to me. I believed that I learned a lot in this project and hope to do more like it.
---
Powered by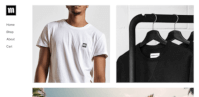 Create your own unique website with customizable templates.