bnw graphic novel project
In this project we made graphic novels based on a short section of the book Brave New World. The point was to choose a scene and recreate it in a way so that when someone sees our project they would be able to get a good idea about of what Brave New World was about. We also had to choose a theme that we thought our theme was trying to represent. For our scene we chose the lack of individual differences for out theme. In this project we worked in parters, one was an artist and the other was an author. The author had to write a theme summery describing the background information for the scene, the theme that we had in our scene, how the characters showed our theme, and how we chose the different types of frames for our graphic novel. The artist had to actually draw out the graphic novel. Thy had to think out how to make the pictures flow from frame to frame and how to use the space well and creatively. Another thing that the artist had to do was write the artist statement. The artist statement is where she talks about how and why she made the graphic novel.

I think that the think that the learning objective that I improved the most on was my use of team work. Me and Mikayla worked really well together and we were able to get all the work done and we helped each other out a lot. In previous years my work parters and I didn't work that well together so this year it was very different . We also never disagreed on anything so we didn't waste any time arguing.

The content skill that I improved on the most in this project was probably analyzing a theme. I think that before this project I had never had to analyze a theme so this is a completely new skill for me but I think that I got a good idea of it and I did a good job for this project. Not only do I feel that I did good on analyzing the theme it was also something that I enjoyed and something that I will use in future to help me better my reading.

In the future I want to improve on using more evidence. I think that through out this project there were a lot of times were more evidence would have made my writing clearer and I think that I could have done a lot better with more evidence. I really need to work on added quotes from the book to back up my writing.

Powered by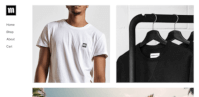 Create your own unique website with customizable templates.