Spray Paint Mural Project
The last project of the year for Advanced Digital Arts was an independent art challenge, where we were to develop skills and perform them in a certain field of art. I decided to stick with spray painting for this project, yet I wanted to do something bigger than just a couple stencils painted in hard to see places. I wanted to create a mural that not only is visually appealing but will last at this school for years to come. Roxy was all for this idea and was very helpful in getting professional painters to come and not only help us with the painting, but to also show us some techniques used in spray pain art. I spent two entire days with these painters at the wall creating a mural for the entire school. We made a desert scene with a big sun in the middle, that stretched across a big wall that students pass every day on their walk to school. I was very happy with how the painting turned out and I can say with out a doubt that it is my best piece of art that I have created all year.
​Photoshop Logo Project

For this project Max Jaye and I continued our E=mc2 logo from first semester, however this time it was completely virtual. We took the general idea of the logo that we had already created, and tried to give it more of logo look, apposed to just a brand name. What we came up with was a red and yellow design that looks similar to the superman logo, however it includes the letters E, M, and 2. After we had created a logo on photoshop, I took to trying to put the logo onto a hat and a pair of boots. I didn't do this physically, but virtually, so that hypothetically we could make branded apparel. I really liked this project because I was able to continue with something I had already created yet make it better, and more rounded. I know have the ability to print, spray pain, or modify my logo with ease.
1st Semester Indepdent Studies:
Photoshop Tee-shirt Design
This semester in Advanced Digital Arts my progress has a made a very linear progression where each project has pushed my goals further and further in the same direction. We started the year with an individual art project where I decided to make t-shirt designs with my friend max. For this project I took a picture of Einstein riding a bicycle and put it in a photo of a city street. From here I modified the colors of the background and I gave Einstein a yankee jersey. I really liked this project because I have always been a fan of photoshop. From this project we created our clothing company name of E=mc2 (Eno and Max Clothing Company) which sparked our interest in spray paining. While we were working on our photoshop project we would go and watch some of our friends spray paint with looked really interesting to both Max and myself. We decided that it would be fun to give our self of a motto that we could tag somewhere around the school. We created a big mural that had our logo as well as our motto "Dress to Impress." After we did this and realized how much fun it was to spray paint while making our campus more unique so we decided to focus more on stencils. We made a several stencils of our E=MC2 logos followed by a stencil of Einstein himself. After we exhausted our E=MC2 stencils we moved on to a more unique and color based stencil. We created what was basically half a circle stencil that when used close together with extreme repetition it created a very colorful and visually appealing design.
Powered by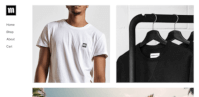 Create your own unique website with customizable templates.