Writing Goals
As a writer the biggest thing I need to work on is including evidence into my writing. I have a bad habit of substituting real facts and direct quotes with more of a antidotal type of evidence. A great example of this would be in my most recent seminar reflection that I wrote (hey I'm getting it.) "
Throughout the article it focuses on very high stakes issues that have been influenced or perceived differently by those with a cynical mindset."
I was talking about an article that we read and instead of quoting the text to allow the reader to see what the writer was saying I simple condensed the main idea into my own words, which told rather than allowed the reader to discover. I feel like a major root of this issue is that I have several non conventional ways of taking notes, my favorite being not taking them. But this is not to say that I do not process the information it is just that I don't feel the need to rewrite the information, I just have it in my brain. However when I do this I have already condensed the main ideas so when I go to write about it I immediately go for my thoughts. With this realization comes my solution, and that is too take more thorough notes so I have raw evidence that I felt was relevant when reading the article to use for my own writing.
My favorite ways to start sentences in a piece of writing is the exact thing I need to work on, and that is making lots of non definitive statements that make my writing less credible. It is very easy to writes as one talks and I do this quite a bit. This is not a bad thing in my opinion but when it comes to sounding like you know what your talking about you need to present yourself in this manner. I love starting sentences with phrases such as,"I think, I believe, In my opinion, etc" which all accurately describe the way I feel about issues. A quote in my seminar reflection "
I don't believe that this article was trying to say that in our everyday lives we make the majority of our day to day decisions with a sort of naive cynicism. I think that as a global community we would not be able to create any sorts of change,"
really shows how I take statements that could have been started in a definitive way and make them all wishy washy with my feelings. As a solution I have decided to be more confident with my writing and my opinions and branch out from my typical vocabulary to make it so I don't feel the need to fall back on the non definitive sentence starters.
Throughout my writing career here at Animas I have a had a really hard time writing drafts and then revising them on separate documents, as a way to show my growth, and to create better writing pieces. Unless the assignment that I am given directly asked for multiple drafts, with signs of edits, I will do all of my work on a single document. I feel like this for the most part has treated me alright, yet it keeps me from doing large scale edits. I am very critical of my writing and it usually takes me a while to get going so by the time I have started writing I have a good idea as to what my piece is going to say. When I have the length requirement finished that is when I go back and look for the numerous grammatical and spelling errors. This is usually the extent of my editing and it leaves a lot of room for improvement. When I look at my friends pieces of writing who will make multiple documents for each draft, you can really see the improvement of their writing on a timeline. Not only is there spelling and grammar on point, but there ideas are much more developed in a clear and concise way. I need to make sure that I am editing my papers in multiple drafts as a way to separate my train of thought, and encourage my self rephrase sentences that are not as clear as they should be. I will do this by making sure that all of my longer writing assignments have at least two drafts, on two separate documents. This will help my writing in the moment but it will also help me too see the things that I am editing consistently on all my papers, since I will have a paper trail of edits.
​
Powered by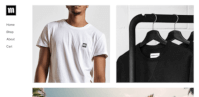 Create your own unique website with customizable templates.