My College Essay
Essay Prompt:

The lessons we take from failure can be fundamental to later success. Recount an incident or time when you experienced failure. How did it affect you, and what did you learn from the experience?

Colleges I'm Applying To:

University of Denver




University of Puget Sound




University of Oregon




Montana State University
I was born and raised in a small mountain town known as Durango Colorado . We are a community of prided extremists who stop at nothing to bring our type of sports; hiking, climbing, skiing, boating, etc… to the next level. We redefine an outdoorsy type of lifestyle while believing we are the very best at everything we do, this is no exception when it comes to driving. Every road that comes in and out of my home town weaves its way through high alpine peaks, rugged cliffs, and terrain no less extreme than our ski and bike trails. Not only do we conquer these mighty roads as a part of our daily lives, but we do so in a manner that allows all the out of state drivers to know our vehicular abilities.
Up until last year this community of "extreme drivers" was only a common spectacle for myself and nothing more, however with my 16th birthday came my time to be introduced to the wild world of Colorado driving. Luckily I received my license in the summer months so I had lots of time to learn the roads in beautiful Colorado summer weather. With my own hands on the wheel it was time for me to discover my inherited Colorado style of driving, and I did not hesitate. However it did not take long for the fall monsoons to be replaced by the notorious Colorado snowstorms. It was then that my inherited extreme driving style took a turn for the worst.
With the first snow storm of the year, came my first opportunity to test my driving abilities on the next level. The day started out with a simple drive to school, no problem. However as the day went on so did the snow. By the time it came to lunch the roads were a whole different world, and I was tasked with driving them. I accepted the challenge hastily and only changed my driving technique to incorporate the occasional donut, or ice drift. All was well until it came to going back to school. I was driving down a small hill to get to the school parking lot when I felt the car start to slide. I instantly went for the brakes witch just sent my car straight into a guardrail, only ten feet away from my friends and teachers.
This was an eye opening moment for me in the way that I viewed myself as a driver as well as the way I perceived the drivers around me. For I had accepted the fact that I was going to be an excellent driver before I could even test my abilities fully. I believed that since I was from Colorado, and that since all my family were more than competent mountain drivers that I would inherit that trait. When in fact I had to get out onto the streets and experience and practice those skills on my own, just like everyone who can successfully navigate or snow capped mountain passes did. My car crash was minor and nobody was hurt yet it was very important to the success of my driving. For the rest of winter I dropped the whole extreme driving persona and focused on the more important task at hand, becoming a good driver.
I decided that I would recieve my driving talents from the community around me, without ever considering the possibility of failure. I let my own ignorance be the cause for my demise and that is what it took for me to grow as a driver. I stopped labelling myself as another Colorado driver and only focused on the idea that I was the sole Eno Ulshafer driving and that I had to create a new reputations for myself alone. I aimed to become the best through my own actions while distancing myself from labels that impaired my ability to grow.
Powered by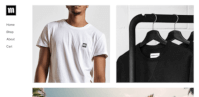 Create your own unique website with customizable templates.