Encyclopedia Project
Through this project I learned that math is very unique because its universal. It gets translated into every language and evolves on a global scale. For example the root sign was originally latin but its latest evolvement happened in Germany. This was very interesting to me because it gave me a real world application of some of the concepts I learned. I like to see a practical use form the concepts to make the learning seam genuine. What I learned about my self for this project is that I work well with revision. I had a really hard time with my first draft and I was really stressed, but after revision and addition to my draft it turned out very nice. For the presentation I want to have my paragraph memorized so I can tell people facts without looking at a piece of paper, which will be professional.

I think that if I had a chance to redo the exhibition I would do another project. I think that while this Encyclopedia project was fun it was hard to make it appealing to the adults. They are long past there radical function days and to try and teach them how to understand a new equation is much harder that it appears. I would like to present a project with more visuals as to intrigue more adults.

I think that my greatest strength in math is my ability to work through problems as well as my ability to make sense of equations and concepts. However I struggle with notes because I find them a little excessive even though I realize there are other students that appreciate them. I need to work on keeping up with notes that way I have a record that I can go back to when I become confused. Another thing that I could work on is challenging my self. I know that I will be able to figure out the mouth so I don't try to go above and beyond. Math is one of my strong suits so I need to start putting more effort towards it if it is something that I would wish to pursuit in the future.
Mid term exam project
For this last project we were giving the task of writing out ten problems using methods that we had learned in the last semester. We had to write three easy, three medium, three hard, and one very difficult problem. Along with actually writing out a solvable problem we also had to solve the equations we wrote with all the work showing how we got our answers. I enjoyed this project because it made me feel like the problems on our test and on our review aren't ridiculous ones that we haven't learned. I also really enjoyed this project because it was a good way to review the work that will be on our test while also getting points for it. I think that by making us take responsibility for our learning we are getting the best out of the material.

To study for the upcoming midterm I plan on going to Effi's office hours as well spending time outside of school with some of my classmates. I found that I learn best when I can verbally go over with a partner. I am also going to get by binder and go through all of the homework that we have done. By going through my old work I will be able to see how I learned to solve problems and what steps I take to get the answers.

I have had a great year in math so far where I feel I have learned lots and created beautiful work. I really enjoy math and I think that Effi does a good job of teaching the methods in a way that makes it easy to understand. Besides my most recect test I have had good grades all year and I am proud of the work I am producing.
Powered by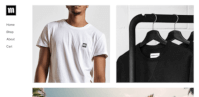 Create your own unique website with customizable templates.