Week One Blog
My first week here at Scape has been completely excellent! I didn't really know what to expect when I walked through the doors Monday morning but so far this has been everything I was looking for in a internship. I am working with to consultants, Elizabeth Marsh, and Jasper Welch, along with three start up companies, EPIC Magazine, Elderfriends Network, and Zaparatus. Most of the time I spent in the office this week was meeting with different small business owners that have been successful locally. Along with that Jasper does about one presentation a day on business model canvasing and brand growth. Between those presentations I was very busy in the office with taking notes and trying to catch my self up on the program the starts ups have been in for the last month. I really have enjoyed being actively apart of the small presentations that Jasper offers because I feel like my opinion of questions are just as important as the starts ups. For the first couple of days I had really no direction in what I was trying to learn or take away from the presentations but on Wednesday I met with Elizabeth and Jasper so we could outline what I will be working on for the next two and a half weeks here. We decided that my official title will be intern of market research, so I will be focusing of collecting data for each of the starts ups specific target markets. For the rest of the week I worked on researching focus groups, online survey tools, and one on one interviews. I am researching these methods of information gathering because they are the most effective in a 21st century setting. I will be sharing the information I gather with the companies so they have a better idea of how to conduct theses types pf market research.
Week Two Blog
This week was defiantly more fun than last week because I feel like I'm starting to become part of the team here and I have been really enjoying the work I have been doing. I did a lot more of the presentaions with Jasper and community members however I did have the awesome oppurtunity however to attend the second annual Durango Tech Conference at the double tree where there were many local speakers as well as a keynote speaker from NASA. This was a mind opening experience becuase I was able to see entrepreneurs who were very sucsesfull and were able to put there idea to work in the real world, however what I took away from this the most was how much the work force is constantly evolving around the new development of technology. My whole idea with interning at a small business incubator was to get an idea of what it takes to be sucsessfull as a small business in the 21st century. I think that I really got a lot of that at the the tech conference so I was extremely excited to see it all come together. This week I talked with the business' about the types of market research tools I was studying last week. After this I meet with each company and they gave me different projects, focused around market research, or development of online presence, that I could do to help them out.
Week Three Blog
The last week of my internship was equally good as it was sad. I have really grown to love being treated like an adult, both with freedoms, and with the work load given. I have really felt like the work I have been doing for the last three weeks has been really meaningful, and because of this I was always excited to work and learn new things. This was very true in the first two weeks, but especially prevalent in the last week because I was really on my own researching and doing projects that directly effected the success of the start ups. I was working on creating email accounts that used the domain names already purchased by the start ups. This was really cool because it is a actually an important step in creating and spreading your brand name, while also making it easy for potential costumers to reach you. I was also working on creating ways for starts ups, with little social media experience, to streamline there online presence and allow them to make announcements through many platforms with very little effort. Lastly I was working on finding different websites that could monitor their competitors websites so that they could determine the size of there market, both demographically as well as economically. These projects were extremelly beneficial to me because I do not know what I want to do when I am older, but I do know that I want to start my own business and I learned very directly what that would take. Overall this has been some of the three best weeks of my life, where all I can say at the end is I am more ready to start my own business and be apart of the adult world, than I am to go back to school and be told how and what to learn.
Powered by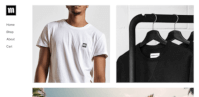 Create your own unique website with customizable templates.